SKSH Logical Framework
SKSH Logical Framework schedule
SKSH Working Planning (2003-2005)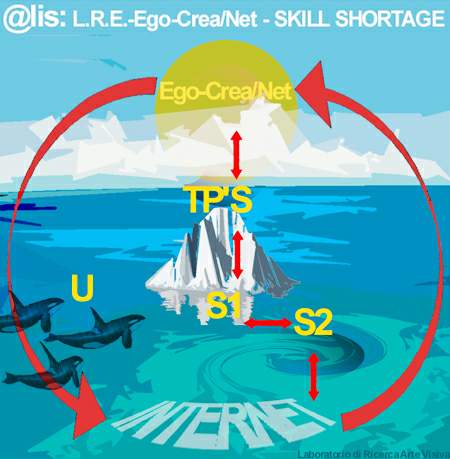 "SK-SH" "REBUS" PICTURE
For giving an idea with an image of this complex SK-SH proposal the VISUAL MANAGER Sandro Gronchi , of the Staff LRE/EGO-CreaNET represents the previous conception with an artistic PICTURE ( See: JPEG ) of the SK-SH networking architecture.

The JPEG of SK-SH project was drown by Sandro of the "Laboratorio di Ricerca Arte Visiva", as well as a "REBUS" solution.

"REBUS"- PICTURE EXPLANATION:

TP's represent the hard "Ice -crystal" that need to be solved in the water- sea to be sure to get an open developmental path of Information Society in internet.

S1 represents the BULK of the ICEBERG, i.e. the hidden hard work of the SK-SH - Consortium's Members for improving the "EU-LA" @LIANCE for INFORMATION SOCIETY.

S2 technological team is represented by a water-vortex that permit to go from the surface of problems to a deep ITC solution in internet-sea.
DOLPHINS jumping in the internet-sea represent the "IS Citizenship's USERS" that will utilise of SK-SH demonstration outcomes and milestones in a cultural diversity wide scenario.


La punta dell'ICEBERG rappresenta il cristallo da sciogliere risolvendo le priorità dello sviluppo della Information Society.

Il BULK dell'ICEBERG è rappresentato da un invisibile ma solida Alleanza tra i Membri del SK-SH Consorzio e dagli Stakeholder del progetto.

Il Vortice rappresenta la utilizzazione delle TECNOLOGIE ITC per l'e.education che porta ad approfondire l'uso di Internet per strategie di sviluppo.

U sono i Cittadini che apprendono l'Utilizzazione di Internet per la Life Lomg Education.

EGO-CeaNET illumina con il proprio lavoro creativo l'ambiente e favorisce lo scioglimento dell'ICEBERG collaborando alla soluzione problematica dello sviluppo della società futura guidata dalla conoscenza interattiva.
Legenda:

TP's _.______=
S1 _________=
S2 _________=
U __________=
EGO-CreaNET = http://www.chim1.unifi.it/group/education/index.html
http://www.innovating-regions.org/